Passion plus Purpose means Business
BUILDING A BUSINESS WITH A BEAT, Leadership Lessons from Jazzercise--An Empire Built on Passion, Purpose and Heart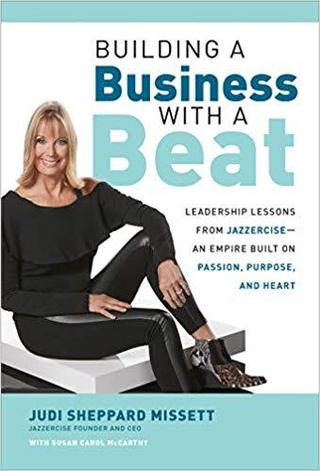 Judi Sheppard Missett is a fitness icon who, at just three years old, discovered a passion for dance that would eventually fuel a global fitness empire. After an early life spent honing her dancing skills and a career as a professional jazz dancer, Missett had an epiphany: why not combine the art of jazz dancing with the science of exercise to help others achieve a healthier, happier self-image and life? The wildly enthusiastic response from her first 15 students inspired her to launch Jazzercise, Inc., the world's leading dance fitness program with a cumulative $2 billion in global sales.
For the first time ever, Missett reveals the secrets behind the company's five decades of enormous success. In addition to helping millions of men and women improve their health and well-being through dance fitness, Missett has inspired 8,500 franchisees to achieve their dream of owning and running their own business. Now, through powerful personal stories, practical proven-successful advice and insights, Missett shares how you, too, can transform your passion into a profitable business.
JULY 2019 UPDATE: Just two weeks after the release of BUILDING A BUSINESS WITH A BEAT, publisher McGraw-Hill Professional reported that, due to sales that were "blowing them all away," a second edition printing has been ordered.
REVISITING FLORIDA'S MISSILE CRISIS, OCTOBER 1962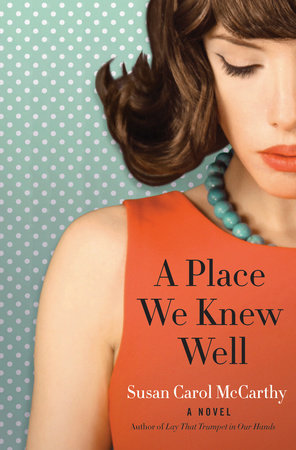 Historians call the Cuban Missile Crisis "the most dangerous moment in human history." For Floridians -- civilians in the path of the largest, fastest military mobilization ever made on American soil -- it was a time of rampant fear and inexorable dread.

In her intimately gripping third novel, A PLACE WE KNEW WELL, Susan Carol McCarthy digs into the riveting panic, fears and uncertainties of those 13 historic days. Through the emotional repercussions on the Avery family and their central Florida community of College Park, McCarthy vividly recreates the largely forgotten impact of the Crisis on everyday citizens.

"Susan Carol McCarthy's genius is in turning history over to muscle-and-blood human beings who variously hope, fear, lash out, hold steady, and tear at the seams. If you weren't there, this is as close to living through the Cuban Missile Crisis as you will ever come." ~National Book Award-winning author Tom McNeal

OCTOBER 2016 UPDATE: A PLACE WE KNEW WELL wins a coveted Royal Palm Literary Award. See Events page for details.
LAY THAT TRUMPET IN OUR HANDS NOW A NATIONWIDE COMMON READ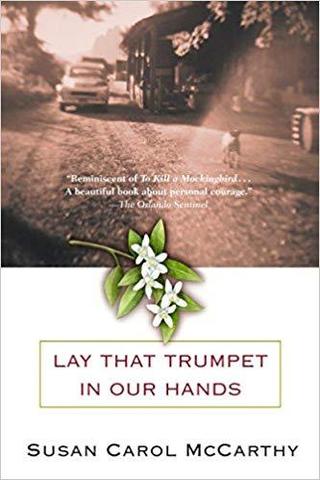 Seattle librarian Nancy Pearl's big idea—"What if everyone read the same book then got together and talked about it?"—has really taken off.

"We choose books that lend themselves to good discussions," Pearl explains. "Books that raise important questions about moral choices, ethical behavior, or the meaning of life, but do so without hitting people over the head with their message."

Among the many schools, universities and library systems which have selected LAY THAT TRUMPET IN OUR HANDS by Susan Carol McCarthy for their One Book Read are...

ONE BOOK, ONE COMMUNITY READS:

Michigan State University, Freshmen Year Read
City of East Lansing, MI, One Book, One Community Read
Michigan Technological University, Houghton, MI, Freshman Year Read
Finlandia University, Hancock, MI, Freshman Year Read
Montcalm County, MI, One Book, One County Read
Tampa-Hillsborough County Libraries, FL, One Book, One County Read
St. Augustine-St. Johns County Libraries, FL, One Book, One County Read
City of Apopka, FL, One Book, One Community Read
ONE BOOK, ONE SCHOOL or ONE CLASS (GRADE-LEVEL) READS:
Academy at the Lakes, Land O' Lakes, FL One School Read
Gulf Breeze High, Gulf Breeze, FL One School Read
Lake Highland Preparatory, Orlando, FL One School Read
Rock Ledge High, Rock Ledge, MI One School Read
Terrace Community School, Temple Terrace, FL One School Read
Norwich Free Academy, Norwich, CT NFA READS
Colonial High, Orlando, FL Annual One Class Read
Fairview High, Fairview, PA Annual One Class Read
Gulliver Preparatory School, Miami, FL One Class Read
High Meadow School, Stone Ridge, NY Upper School One Class Read
Iroquois Jr/Sr High, Erie, PA One Grade Read
Jones High, Orlando, FL One Class Read
Lake Mary High, Lake Mary, FL Annual One Class Read
Lake Mary Preparatory, Lake Mary, FL One Class Social Studies Read
Lely High, Naples, FL Senior Class Core Novel
Liberty School, Madison, AL Annual One Class Read
Oveido High, Oviedo, FL One Class Read
Paul J. Hagerty High, Oviedo, FL Annual One Class Read
The Pingry School, Martinsville, NJ Annual One Class Read
Providence School, Jacksonville, FL One Class Read
South Broward High, Hollywood, FL One Class Read
St. Francis Xavier School, LaGrange, IL One Class Read
Timber Creek High, Orlando, FL One Class Read
Trinity Preparatory, Winter Park, FL Annual One Class Read
Winter Springs High, Winter Springs, FL Annual One Class Read


OTHER READS/RECOMMENDS:


12 BEST BETS: BOOKS FOR SUMMER READING, Random House Academics
Approved High School Textbook, Illinois State Board of Education
Annual English II Core Curriculum Read, South Carolina State Board of Education
TOP 40 YA TITLES, Pennsylvania School Librarians Association
SOCIAL SCIENCE DOCKET: "Using Literature in Secondary Schools to Teach about the African American Struggle for Civil Rights," a joint publication of the New York & New Jersey State Councils for the Social Studies
SUMMER/CIVIL RIGHTS READING LIST: Middlesex County High Schools, East Brunswick, NJ
Historical Fiction Secondary Reading list, San Dieguito Unified Schools, Encinitas, CA
Literary Canon (Required & Supplementary Literary Selections) of Gaston County Schools, Gastonia, NC
RECOMMENDED READ: The Virginia Bar Association's "Rule of Law Project"
FLORIDA TEEN BOOK MAP PROJECT, Florida Reading Association
State of Florida Taskforce on African American History, Recommended Secondary Read
The High Schools of Duval County, FL Core Novel for Secondary Intensive Reading
The High Schools of Hamilton County, FL Core Novel for Secondary Reading
The High Schools of Polk County, FL Approved Instructional Reading List
The High Schools of Manatee County, FL Annual Core Curriculum Read
The High Schools of Escambia County, FL Annual Core Literacy Read
HOT PICKS! District-wide Summer Reading list for the High Schools of Broward County, FL


ADDITIONAL CLASSROOM READS:
Shibuya School, Makuhari, Japan Advanced English 2 Read; Lincoln High School, Lincoln, NE English 10D Leadership Project; Oak Lawn Community High, Oak Lawn, IL; Lakeland High School, White Lake, MI Honors English Read; Parsippany-Troy Hills District High Schools, Parsippany, NJ English II Read; Geneva High, Geneva, NY English 1 Read; Glastonbury High, Glastonbury, CT English 2 Read; Tolland High, Tolland, CT English Honors Read; West Florida High School, Pensacola, FL English 1 Honors Read; Atlantic High School, Port Orange, FL English III Honors Read; Braden River School, Bradenton, FL English I Honors Read; Carlos E. Haile School, Bradenton, FL English I Honors Read; Hamilton County High, Jasper, FL English II Read; Wekiva High, Apopka, FL English III Honors Read; Beacon High School, Naples, FL English IV Read; Hollywood Hills High, Hollywood, FL Government & Law Communications; Coral Gables High School, Coral Gables, FL English Honors Read; Buffalo Creek School, Palmetto, FL English I Honors Read; Cypress Creek High, Orlando, FL English I Honors Read; Timber Creek High, Orlando, FL AP Read; Pinellas Park High, Largo, FL Annual Honors Read; Lawton Chiles High, Tallahassee, FL Annual AP Read; Seabreeze High, Daytona Beach, FL Annual Honors Read; Fernandina Beach School, Fernandina Beach, FL

ADDITIONAL SUMMER READING LISTS:
Pacifica High,Oxnard, CA; Rodriguez High, Fairfield, CA; Diamond Fork High, Spanish Fork, UT; San Juan High, Blanding, UT; Metamora Township High, Metamora, IL;Lamphere High, Madison Heights, MI; Arcadia High, Rochester, NY; Greece Central School District High Schools, North Greece, NY; Huntington High, Huntington, NY; Shenendehowa High, Clifton Park, NY; St. Mary's School, Swormville, NY; River Dell High, Oradell, NJ; Princeton High, Cincinnati, OH; Blackstone Valley Regional High, Upton, MA; Harwich High School, Harwich, MA; Malden High School, Malden, MA; Medway School, Medway, MA; Natick High, Natick, MA; Saugus High, Saugus, MA; Smithfield High, Smithfield, RI; Danbury High, Danbury, CT; East Hartford High, East Hartford, CT; Appoquinimink High, Middletown, DE; Middletown High, Middletown, DE; Paris High School, Paris, KY; Fairfield Central High, Winnsboro, SC; Laurens County Schools, Laurens, SC; Mandeville High, Mandeville, LA; Henry W. Grady High, Atlanta, GA; Cypress Bay High, Weston, FL; Duncan U. Fletcher High, Neptune Beach, FL; Eastside High School, Gainesville, FL; Edgewater High, Orlando, FL; Florida Atlantic Technical High, Coconut Creek, FL; Freedom High, Orlando, FL; Gainesville High, Gainesville, FL; Lake Howell High, Winter Park, FL; Lawton Chiles High, Tallahassee, FL; Lee Academy, Tampa, FL; Monarch High, Coconut Creek, FL; Northeast High, Oakland Park, FL;Orangewood Christian Upper School, Maitland, FL; Paladin Academy, Weston, FL; Royal Palm Beach High, Royal Palm Beach, FL; Seminole High, Sanford, FL; Somerset Academy, Pembroke Pines, FL; South Plantation High, Plantation, FL; Spanish River High School, Boca Raton, FL; St. Augustine High, St. Augustine, FL; Tavares High School, Tavares, FL; West Orange High, Winter Garden, FL

HIGH SCHOOLS/DISTRICTS TEACHING Lay That Trumpet In Our Hands AS A CORE NOVEL IN DR. JANET ALLEN'S PLUGGED-IN TO READING PROGRAM:
Daphne High, Daphne, AL; Baldwin County Learning Centers, Baldwin County, AL; Oak Mountain High, Birmingham, AL; Shelby County Instructional Services Center, Alabaster, AL; E-cademie Charter High, Phoenix, AZ; Anaheim School District, Anaheim, CA; New Haven Academy, New Haven, CT; Cromwell Board of Education, Cromwell, CT; New Canaan High, New Canaan, CT; Lake Forest High, Felton, DE; Smyna High, Smyrna, DE; Brevard Public Schools, Melbourne & Cocoa, FL; Rainwater Center for Girls, Cocoa, FL; Frances Walker Halfway House, Titusville, FL; Charlotte County Public Schools, Punta Gorda, FL; Madison County School District, Madison, FL; Robert E. Lee High, Jacksonville, FL; Washington High, Escambia High & Pine Forest High, Pensacola, FL; JM Tate High, Cantonment, FL; Hamilton County School District, Jasper, FL; Marianna High, Marianna, FL; Okeechobee High, Okeechobee, FL; Clay County School District, Green Cove Springs, FL; Boone High, Orlando, FL; Fort White High, Lake City, FL; Northview High, Bratt, FL; W. Florida High School of Advanced Technology, Pensacola, FL; Brandon Alternative School, Seffner, FL; Cohokia United School District, Cohokia, IL; East Alton-Wood River Community High, Wood River, IL; Joliet Public Schools, Joliet, IL; Collinsville High, Collinsville, IL; Madison Senior High, Madison, IL; Clark Pleasant Community School District, Whiteland, IN; Mississinewa Community Schools, Gas City, IN; School City of East Chicago, East Chicago, IL; Morton High & Hammond High , Hammond, IN; Clark High, Whiting, IN; South Port High, Indianapolis, IN; Southwestern High, Shelbyville, IN; Triton Central High, Fairland, IN; SW Kansas Area Cooperative District, Ensign, KS; Scottsville High, Scottsville, KY; Carter County School District, Grayson, KY; Greenwood High, Bowling Green, KY; DuVal High, Lanham, MD;Eleanor Roosevelt High, Greenbelt, MD; Oxon Hill High, Oxon Hill, MD; Parkdale High, Riverdale, MD; High Point High, Beltsvile, MD;Lubec High, Lubec, ME; Machias Memorial High, Machias, ME; Shead High, Eastport, ME; Jonesport Beals High, Jonesport, ME; Central High, Grand Rapids, MI; Redword Union High, Redford, MI; Amite County School District, Liberty, MS; Horn Lake High, Horn Lake, MS; Grand Island High, Grand Island, NE; Sanborn Regional School District, Kingston, NH; Amy Biehl High, Albuquerque, NM; Native American Community Academy, Albuquerque, NM; Del City Senior High, Del City, OK; Rose Tree Media School District, Media, PA; Caprock High, Amarillo, TX; Chavez High, Houston, TX; Irving High & Union Bower High & MacArthur High, Irving, TX; Jefferson Forest High, Forest, VA; Liberty High, Bedford, VA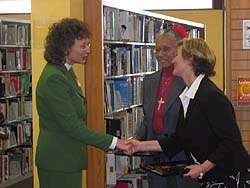 ONE BOOK, ONE COMMUNITY:
TAMPA-HILLSBOROUGH READS

TAMPA, FL - Mayor Pam Iorio joined the Friends of the Library for the One Book, One Community: Tampa-Hillsborough Reads press conference featuring author Susan Carol McCarthy and Evangeline Moore, daughter of slain Florida civil rights leaders, Harry T. and Harriette V. Moore.

"McCarthy's extraordinary debut novel, LAY THAT TRUMPET IN OUR HANDS, was inspired by real events that took place in the 1950s after her family moved to Florida. This story of courage and compassion will touch the hearts of readers and remind longtime residents of the 1951 double murders of civil rights activist and Florida NAACP leader, Harry T. Moore and his wife Harriette," the selection committee said.

McCarthy and her special friend and guest Evangeline Moore, the Moores' only surviving daughter, visited Tampa for a series of One Book, One Community special events and programs.